History of The Ward
   Toronto's first Chinatown and the Surrounding Stigmas
"For some Chinatown offered an economic opportunity, to be exploited as a tourist attraction, but for others it presented a threat" – J.A Roberts "China to Chinatown"
This neighborhood in Toronto was known as one the poorest neighborhoods in the city during the early 1900's. The Ward  gained a reputation for being the go to place in Toronto for immigrants just arriving in Canada. Who were hoping to start a better life. Between the years  1920 to 1925 The Ward also became home to what is now known as Toronto's first/original Chinatown.
The Ward was the place where the Chinese immigrants began to find their place in the city, and started to grow their businesses.
This was not as easy as it sounds as they dealt with constant oppression and adversity and were constantly fighting to build a new life in a place where they were known as unwanted stereotypes more than real people.
Some of the most popular businesses included laundromats and Chinese food restaurants
But even in their own communities they could not escape the stereotypes and perceptions put upon them by the outside world. These stigmas and stereotypes were present all over Canada, not just isolated to Toronto. British Columbia in particular had many problems within their own Chinatown, specifically with the hiring of white waitresses.
 Restaurant in Chinatown
British Columbia
In 1919 British Columbia passed a legislation outlawing white women's employment on an "oriental premise"
Although this legislation was not enforced very heavily in the beginning. Until the year of 1929 when "The White Canada Association" was formed in order to prevent further " oriental illustration" in BC. But once again, this did not completely stop the employment of white waitresses only now it was done illegally or under the table.
1931 – A white waitress in Vancouver's Chinatown was murdered (allegedly by her Chinese lover). This murder made the belief that Chinatown was a dark and dangerous place even stronger, and this made the practice of employing white waitresses in Vancouver's Chinese restaurants come under even more scrutiny.
It was claimed that this practice encouraged  "illegal vices" and that the majority of Vancouver's known prostitutes had formerly been employed by Chinese restaurants
8 Chinese restaurants in Pender Street were served with notices requiring them to dismiss the 29 white waitresses that they were currently employing
The Vancouver police threatened to close the licences of the 3 popular Chinatown restaurants including Charlie Ting's Hong Kong Cafe, Toy Wing's BC Royal Cafe and Harry Lee's Gee Kong Cafe unless they fired all their white employees as soon as possible.
British Columbia Continued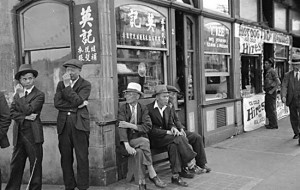 In the mid 1920's Vancouver authorities began to launch a campaign to ban white waitresses from working in any Chinese owned establishment.
Authorities were concerned that the employment of white woman in these Chinese businesses not only promoted cross racial interaction but also could lead to the starting of interracial relationships.
Fears and Outrage
The Vancouver police felt so concerned for the white women working in these Chinatown cafes that in the 1920's that the mayor of Vancouver (George C. Miller) and the police chief William Wasbrough Foster launched a new campaign stating that white women should be completely banned from working under Chinese men in order to protect them from being coerced into the dangerous and unknown world of Chinatown. The police chief believed that the girls were in a high risk situation, and were while working at these businesses, could easily be convinced into becoming prostitutes.  According to Foster, "The association between the white girls and Chinese is such that a large number of the girls, who are usually quite young and without experience, become intimate with the Chinese, and in many cases live with individual China-men".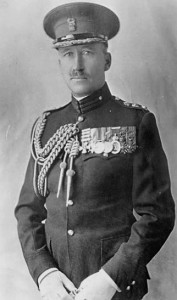 The outside Vancouver community saw Chinatown as tainting it's respectable city reputation It was seen as somewhere that was filled with danger and immorality.
The Women's and Girls' Protection Act
In 1923, the BC Legislature passed "The Women's and Girls' Protection Act".  This made it almost impossible for Chinese-owned restaurants and laundries to hire white women to work for them. It required local police officers to determine whether it was safe for the women to work at these businesses, so their employment would be tolerated only if it was  "advisable in the interests and morals of such women and girls".
Saskatchewan
Moose Jaw, Saskatchewan –
1912: A Chinese restaurant owner was arrested after his employee who was a White waitress filed an assault complaint against him.
The case sparked outrage and prompted an act by the Saskatchewan Legislature which prohibited the hiring of White females in restaurants and other businesses kept or managed by a Chinese immigrant
Any person who was found to have violated the act would be fined at least a hundred dollars
Works Cited
Amos, Robert and Kileasa Wong. Inside Chinatown: Ancient Culture in a New World. Victoria: Touchwood Editions, 2009. Print.
Amosovs, Rosanne Sia. "Making and Defending Intimate Spaces: White Waitresses Policed in Vancouver's Chinatown Cafes." University of British Columbia, 2007. Web. 21 July 2015.
Chenier, Elise. "Sex, Intimacy, and Desire among Men of Chinese Heritage and Women of Non- Asian Heritage in Toronto, 1910–1950." Urban History Toronto 42.2 (2014): 29-43. Web. 08 Apr. 2015.
Kusch, Larry. "Hard-working Chinese Immigrants, Once Banned, Have Risen to the Highest Echelons of Manitoba." Winnipeg Free Press. Winnipeg Free Press, 28 July 2012. Web. 8 Apr. 2015.
Letter from the Chinese Consulate in Vancouver regarding the BC Women's and Girls' Protection Act, 1923. 1923. University of Victoria Archives, Victoria. Victoria's Chinatown. Web. 21 July 2015.
Lorinc, John. "The Ward: One of Toronto's more historic, yet forgotten, communities." The Star. The Toronto Star, 16 May 2013. Web. 21 July 2015.
Photograph of a business in Toronto's first Chinatown. City of Toronto Archives, Toronto. blogTO. Tim Shore, 11 Sept. 2013. Web. 21 July 2015.
Photograph of the Central Laundry in Winnipeg. 1920. Winnipeg Free Press Archives, Winnipeg. Winnipeg Free Press. Web. 8 Apr. 2015.
Roberts, J. A. G. China to Chinatown: Chinese Food in the West. London: Reaktion Books, 2004. Web. 8 Apr. 2015.
"The Chinese Consolidated Benevolent Association." Comp. Charles Yang. Victoria's Chinatown. N.p., 2012. Web. 08 Apr. 2015.
"The 'Heathen Chinee' in British Columbia." The Critical Thinking Consortium. Library and Archives Canada, n.d. Web. 5 Feb. 2015.
Zhong, Li. "Chinese Community." The Encyclopedia of Saskatchewan. University of Regina, n.d. Web. 8 Apr. 2015.